Contact Us
Want to know more? Please feel free to contact us and we will be glad to answer any questions you may have. The easiest way to contact us is by email:
Our address
Du Pont-Strasse 4
61352 Bad Homburg
Germany
Tel. +49-6172/18077-0
Fax. +49-6172/18077-66
Google geographic coordinates: 50°12'56.19"N ; 8°38'59.46"E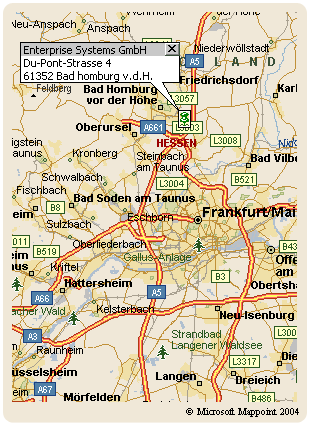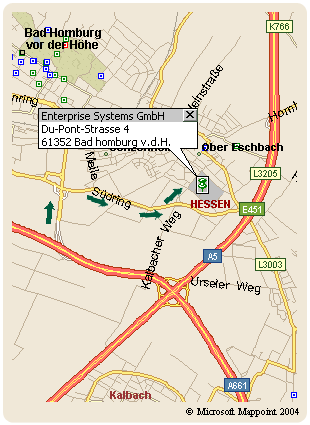 From the Hauptwache stop downtown take the subway line "U2" towards Bad Homburg - Gonzenheim, to the "Ober-Eschbach" stop.
Parking
Please feel free to use our designated parking spaces. Turn left in front of our entrance door and park in any of the spaces that are marked "Enterprise".
Directions
on the A 661, at the "Bad Homburg" junction take the next exit towards "Ober-Eschbach/Büropark"
turn right onto "Südring"
proceed to exit "Ober-Eschbach/Büropark Atzelnest"
turn left (you should see the Hewlett Packard building)
turn right onto Hewlett-Packard-Strasse
after two blocks, turn left onto Du-Pont-Strasse
---
Enterprise Systems GmbH, Gesellschaft für Systemintegration und Softwareentwicklung mbH.
Du Pont-Strasse 4, D-61352 Bad Homburg, Germany. Tel. +49 (6172) 180 77-0,
Last update: 23.07.2007, Webmaster:
info@enterprise-systems.de